The best way to visit the whole Amalfi Coast is by yacht
There are picturesque beaches and coves where you can enjoy the sea and the sun. The coast between Sorrento and Positano is the Punta Campanella protected marine reserve.
The Amalfi Coast
Some of our boats are authorized to enter the restricted areas of the reserve, a paradise for snorkeling.
On request, during your yacht excursion to the Amalfi Coast, we can arrange scuba diving excursions with a local diving center.
Amalfi Coast yacht charter
The first village of the Amalfi Coast that we meet is Nerano. It is famous for its clear water and for its characteristic and renowned restaurants by the sea.
Not far from here you can see, clinging to the ridge, the marvelous Positano with its narrow streets full of shops and boutiques (moda Positano). Do not miss the main church under which were recently found some Roman frescoes.
Amalfi Coast beaches
Between Nerano and Positano there are picturesque beaches and coves where you can enjoy the sea and the sun.
Along the coast there are some islets that emerges from the sea.
Among these there are the "Li Galli" Islands where Ulysses met the famous Mermaids in the Odissea.
The final destination of the excursion is Amalfi, a town rich in history and a former maritime republic. You must visit the historical centre, the cathedral and the museums. Moreover from Amalfi in just 20 minutes by car, you can reach Ravello with its enchanting terraces on the coast. Do not miss Villa Cimbrone and Villa Rufolo.
Enjoy the Amalfi Coast on board our luxury yachts
Admiring the beauty of the Amalfi Coast from the sea is an experience not to be missed.
Our yachts will navigate as close as possible to the coast, so you can appreciate all its wonders and the enchanting villages set in it.
If you want, we can organize diving for you by contacting the local diving centres and taking you directly to the most beautiful seabeds.
Our yachts are fully equipped and can accommodate up to 12 passengers. We offer charter leisure crafts fully authorized and insured, manned by a professional crew (STCW).
Other yacht excursions
Sorrento, Capri and Nerano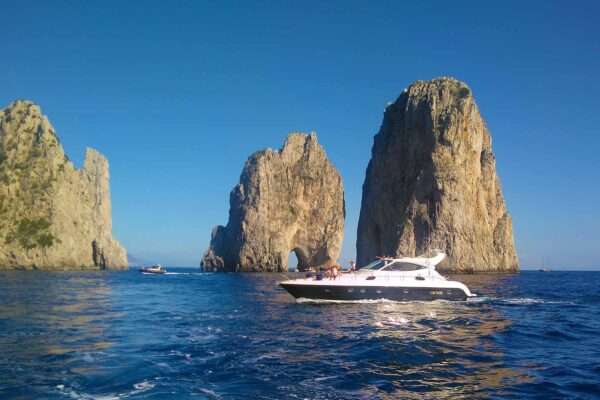 Enjoy Capri and the Sorrento Coast
Excursion start from Sorrento with its unique volcanic high cliffs and finish in the enchanting limestone Island of Capri, passing by the characteristic village of Nerano.
Toasting in front of Faraglioni Rocks restores the spirit
A cruise by yacht around Capri, the enchanting and glamorous island, is a must-do experience, a full immersion in the naturalistic hearth of the island.
Two islands born from the heart of the earth
The excursion to the volcanic islands of Ischia and Procida offers the opportunity to visit two different but at the same time similar places.